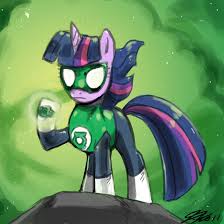 In brightest day, in blackest night, No evil shall escape my sight. Let those who worship evil's might, Beware my power, Green Lantern's light!!!
When studying the stars one night, Twilight Sparkle spotted a shooting star and it crash land in the Everfree Forest. Wondering what it was and hoping no one was hurt, she runs towards it. When she reach there, she meets a creature dress in green and it dies leaving it ring in her hooves. When Twilight accepts the ring, she become the first Pony Green Lantern! Now Twilight must use her new power to save her home and friends from the evil that invades it. However she not the only Lantern on Equestria.
"In blackest day, in brightest night, Beware your fears made into light. Let those who try to stop what's right, Burn like my power, Sinestro's might!"
Chapters (7)