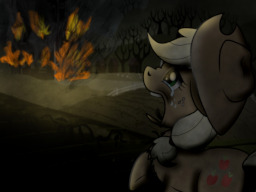 Source
This story also goes by the name: An Apple Forgotten.
When you finish reading this go check out Part 2: Here.
After Applejack loses her family as the result of a fire, the farm pony goes into a deep depression. Because of her grief Applejack neglects taking care of the farm, which then goes to waste.
Seeing her sadness Applejack's friends feel bad for her but the farm pony interprets this as pity, thus shutting herself off from the rest of her friends.
However things go wrong when Applejack starts to hear the voices of her family talking to her. Was the fire an accident?
---
The story was proof read by: 0_0
This was a story I wrote on Deviant Art as an art trade for AnAppleForgotton. She is also the owner of the story image.
Here are images pertaining to the story (Illustrated by:AnAppleForgotton):
Barn Fire
Insane Applejack
Chapters (1)