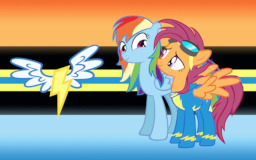 Source
I'm Captain of the Wonderbolts. Master of the Sonic Rainboom. Undeafeated Champion of the Young Fliers Competition. But I don't deserve any of this when it should belong to somepony else...
Sure, I'm awesome and all that and everypony wants to be me... But they shouldn't want to be me.
She's the one that should be here right now. It should be Her name they're screaming. Her they're praising.
This applause? Would sound a whole lot better if I knew she was up here and I was down there...
Chapters (2)