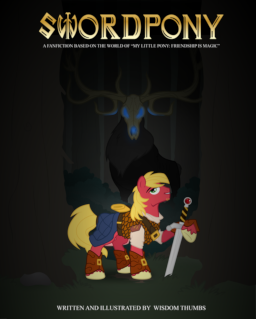 Source
It's been at least five years. Sorry I fell apart rather than finish my drafts. I've uploaded a special draft chapter as an apology to anyone who reads this. It follows most of the battle, and contains a song I wrote myself. "Game of Thrones" beat me to everything. Consider this a celebration of that show.
(oh god why did this story get featured NOW, this was supposed to be a goodbye)
----
It's been five long years since Red Pommel rose from mud and fought his way to the top. Alas, the office of Master Swordpony was not the adventure he imagined. Instead of quests or saving damsels, all Red got was a heap of court politics and five years of guard duty. What does he have to show for his work? More money than he knows what to do with, and at least as many enemies.
Now dragons stir in the far north, unleashed from an age before Discord. The Sisters Alicorn call for an envoy, and it's no surprise that Red jumps at the opportunity. But when his swashbuckling leads him astray, he finds himself caught up in a tale of dark forests, dead gods, and gleaming steel...
A story of medieval Equestria, set over a thousand years before the events of the show.
Cover art by local neighborhood Tim015 on DA: EPIC SAUCE
Chapters (10)