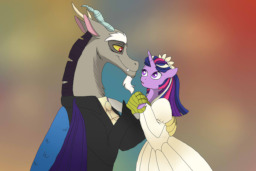 After two years of chaotic love, Princess Twilight Sparkle and Discord thinks their ready to tell the world about their secret relationship. With Shining Armor disapproving of this relationship, often trying to talk his sister out of the relationship with Discord, with his wife Princess Cadence telling him to give them an chance. When Shining Armor goes and confront his sister in front of the other Princesses, Twilight decides she had enough of her brother's over protective instincts. She and Discord decides to get marry, with the Twilight's friends being her bride maids and Spike being the best stallion or best dragon in this case.
Later that night, after the big wedding. Twilight and her lucky chaotic husband Discord have some bit of fun in there crystal castle. After their little fun, Twilight feels a bit of pain in her stomach, fearing of the worst. She takes a test to find out if she carrying the Lord Of Chaos' offspring, to her surprise, she is.
Does the Lord Of Chaos and the Princess of harmony has want it takes to raise a family? And how will there friends react when they hear the news, will they react badly or with disgust? Or just support the alicorn in raising one of the chaotic families known to Equestria.
And can these two newly weds, face the challenges that comes in store for them of starting a family on their own?
Chapters (4)