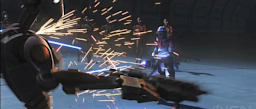 Commander Thorn was just another clone out of millions. He was strong, he would never back up for a fight, and he would give his life for the Republic... Unfortunately that last thing became reality.
While on a mission to escort senator Amidala while she would begin negotiations with the Banking Clan, Separatist forces landed in the neutral-zone and began attacking Commander Thorn and his squad.
They were no match for the Droid forces and were all killed.
5 shots in the chest was all it took to put Commander Thorn down.
But what if his journey as a Clone isn't over? What if this is just the beginning of something new?
Let's see how everypony will react to this Clone Commander.
He's got his blasters, he's got his armor, the only thing he doesn't have is a way home.
but he will find a way home, of that he is certain.
Chapters (31)