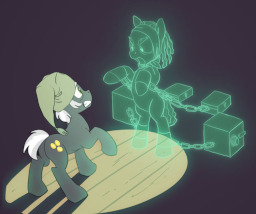 Source
It is the winter holidays once more, and almost everypony is enjoying it. But for one lone stallion, things are less cheerful. However, on the eve of that special day, he is visited by the spirit of his old business partner, who warns him that his selfish and greedy life will condemn him in ways he cannot possibly imagine.
So, on this one night, the old stallion is led on a journey by three visiting spirits, each of whom will show him his past, present and future, in the hopes that he will change his ways for the better, before it is too late.
Cover art by Siansaar.
Chapters (7)