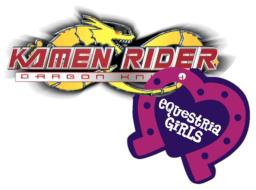 Strange things are happening around Canterlot High. So what else is new? A mysterious armor-clad figure protecting citizens from invisible monsters, that's what's new.
When rumors begin spreading that this nighttime warrior may be nothing more than a hoax, the HuMane 5 and Sunset Shimmer begin an investigation into the vigilante, but quickly uncover something far bigger than they had expected. Monsters from another universe are invading, reaching out from behind the mirrors…but through the darkness shines a helpful light. Is there a part for these six friends to play in this struggle against an unknown enemy attempting to conquer multiple worlds?
When you look in the mirror, what other than your reflection might be looking back?
(Kamen Rider Dragon Knight reaches into the Equestria Girls world.)
(Select Rider and attack names and powers suggested by MythrilMoth and KR Chrome.)
(This story is most conveniently read on Indented view instead of Double Spaced.)
---
Catch the non-canon spin-off: Kamen Rider × Kamen Rider EqG & Decade
Chapters (12)