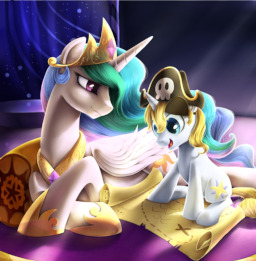 Source
Of all the royal figures who lead Equestria, much is known of most of them. Celestia and Luna came from parts unknown and were offered the crown by the founders of the nation. Cadance was an orphan of distant noble descent who was raised by a humble village. Twilight was a lonely bookworm who eventually became one of the greatest heroes in history.
The prince, however, has very little in the way of backstory. How did he become a prince, since the title does not award itself? What is the meaning of his cutie mark? If he grew up with Celestia, as is sometimes speculated, then how did he get on with Princess Mi Amore Cadenza, or with Spike? While few are interested in providing answers for such an infuriating public figure, they nonetheless exist. This is one man's attempt to piece them together.
Cover art created by Chryseum.
Chapters (12)