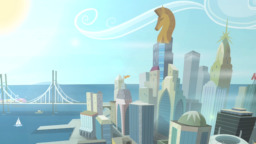 Commissioned by: Jake The Army Guy
Detective Babs Seed has lived in Manehattan her entire life. Nothing really much surprises her anymore. She's seen good, she's seen bad. What she hasn't seen is a dragon from Ponyville in a very long time.
After a request by her cousin, Babs lets Spike stay with her over time. When it's clear he's having issues of his own, Babs decides to give him the Manehattan treatment in order to learn more about him. However, she may be learning more then just a new friend in this case. She might be learning what it means to fall in love.
Chapters (1)