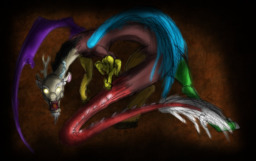 In a world without the sovereign Princesses, gemstones have taken over as the ruling force of this modernized and industrious Equestria – running everything from technology and magic to the economy itself.
But when an ancient, chaotic evil rises to reclaim this world for his own, can a world-weary band of strangers come together and rise to the occasion in a universe where help, strength and courage are not so easily found?
Now featured on EQD!
Special thanks to:
RyuuKiba - Cover art
KitsuneRisu - Best damn editor ever
Chocolate Milk - Proof-reader
JohnPerry - Proof-reader
Chapters (4)