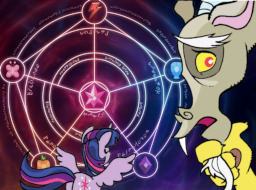 Featured: 2.25.15! Thanks so much!
Discord - the Spirit of Chaos - is troubled. For the last several days, he has felt things more sharply. His body feels sluggish, and his mind more so. Realizing it all began with the rise and fall of Tirek, he seeks out the ponies he feels can best help him.
Friendship is magic, after all, and this is a matter of magic. And Discord, the Spirit of Chaos, has none.
Alternate Universe tag added. Rating heightened to Teen.
Chapters (5)