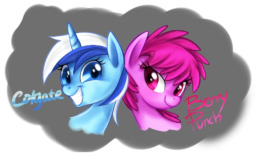 Simply put, Berry has bad breath. She's been known to go no less then one whole life-time without brushing or even flossing. The closest she ever comes is the occasional bottle of mouthwash she chugs (it's close enough when the party's run dry ... right?). However, deep, deep, deep down inside, past the Great Bay of Sherry, beyond the Bourbon Sound, and under the Gulf of Gin, lies a burning regret for this shameful act. After all, who drinks mouthwash? Oh, wait, the regret is for not brushing, ever. Simple mistake. Be that as it may, there is only one power in all of the universe that withstand breath so foul; that can cleanse evil so powerful.
And it's going to take a very long trip to get to it.
Rated Teen for use of Alcohol.
Chapters (45)