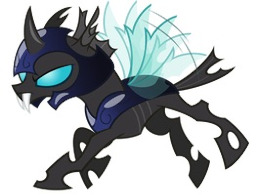 Arrogant, proud, prideful, haughty.
These words mostly describe Alpha, the changeling who is second in command with Chrysalis.
All of his associates think Alpha is too full of himself, and very arrogant. Even Chrysalis herself thinks so, too.
So The Queen assigns him to go out to Ponyville, without disguise, to "Study the regular ponies culture and behavior".
While there, he gets made fun of for being a freak of nature, an abomination to Celestia and Luna. He gets hated on for not being like the rest of them.
Until he met her, the mare that took care of Alpha during his darkest times, then things changed...
---
Thanks to Anonymous Pegasus for helping my flesh out the story.
Thanks to Ron Jeremy Pony for editing!
Chapters (1)