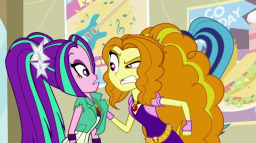 After their defeat, Aria is pushing Sonata over and Adagio has finally enough of it.
She decides to give Aria a proper punishment.
NOTE: This story contains corporal punishment and mature language. Reader discretion is advised.
NOTE 2: My native tongue isn't English, it's German. But it should now be decent English, because a good American friend called Desparil was so kind to help me with this story.
Chapters (1)