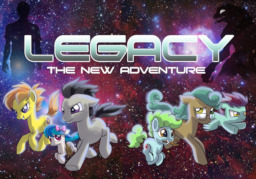 It's been nearly 50 years since the Princesses reigned over Equestria. A land once filled with friendship and joy is now under control of a race of powerful lizard-like creatures. Only a small number of ponies manage to remain free, but for how long is anypony's guess.
Separated from his family, a young pony will begin a quest to free his people from slavery. But to do so he'll have to leave on the greatest journey in the history of Equestria....
Note: This is an alternate timeline that branched off during Season Four of the show, before the events of "Twilight's Kingdom".
Artwork by LostInTheTrees
Chapters (11)