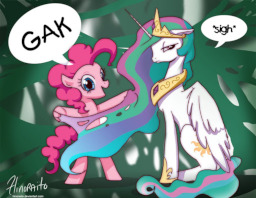 Source
It was no national secret.
Celestia always told her guards that nopony was to touch her mane. Ever. If terrorists broke into the castle and held her at swordpoint, they were to let her die before anypony touched her mane. If an adoring foal ever grasped for her flowing locks in the street then they were to be tackled as if they had held a knife to her throat. If she tripped at the top of the Unreasonably Long Staircase in the highest tower of the castle, broke her wings and began to slide over the edge of the stairs then they were to look on impassively as she fell rather than grasp her by her mane to save her.
Nopony was to touch Celestia's mane; it shouldn't have been a difficult command to obey. Somewhere in the depths of the Canterlot archives lay a twisted and malicious law on the subject and now, for the first time ever, she had to exercise it.
For fate had dealt her a hand worse then death, worse than damnation, worse even than Discord.
Fate chuckled, or perhaps cackled, and threw her a mane full of Pinkie Pie.
Chapters (1)