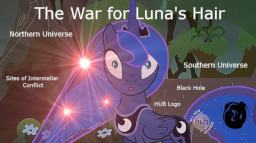 Comedy
Random
---
A fellow pony notices that Princess Luna may have a serious problem: there is a small, sentient race inside her mane and they have been living there for quite some time. Luna must decide what to do about this.
A random short story I made to help bring the smiles.
--You will most likely enjoy this story if you also like:--
Luna freaking out
Celestia being totally chill
Sea ponies!
Explosions taking place inside people's hair
Entire wars taking place inside people's hair
Absurd and Absolutely Delicious Comedy
If you liked Mic the Microphone's Audio Version of this story: