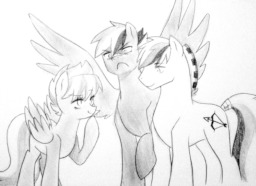 Source
Prism had rough time lately, few new fights with Illusion, getting even more scolding from his mother than usual and to top it all off, Fletcher, a super handsome mare magnet walked into his life.
So what else is to do with somepony like Fletcher, other when teaching him how to pickup mares?
Not that he needed that help anyways.
[A/N] Fletcher, Prism and Whirlwind all belong to kilala97
Chapters (1)