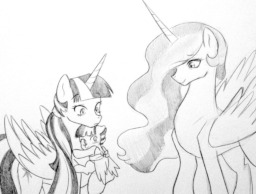 Source
Today is a big day for Starfall, he's going to have a dinner with his marefriend, sounds good? What if I tell you that her parents will also be present?
It shouldn't be a surprise that poor colt is feeling extremely nervous, so in order to help him, Twilight does what mothers do best.
Tells him an embarrassing story about her daughter.
[A/N] Starburst was created by kilala97, Starfall on the other hand belongs to Borsuq.
Disclaimer
This story is in no way cannon to Stars in the Making
Chapters (1)