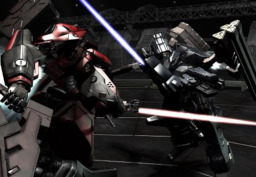 Leos Klein, a Raven who piloted armored core units to the top ranking position on the leaderboard of the arena, has destroyed the core of the Ravens' Nest and Nine-Ball with it, but any further thoughts on the future disappear when a mysterious lone mission request appears in his inbox promising a better life.
Meanwhile, in Equestria, Twilight Sparkle receives a wave of energy emitting from the Whitetail Woods in the shadow of night. Investigation leads to discovery as two species unknown to each other struggle to form absolute trusts between them. He came in a machine, while another somewhere else is under construction.
~
A first generation Armored Core crossover. Set after the events of Armored Core: Master of Arena.
Chapters (8)