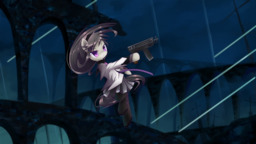 Source
Every mahou filia fights for a wish. Some choose to fight for their lives, others to heal brokenness, still others to save the ones they love. But Ditzy was different. She chose to save the whole world from a cruel cycle, a cycle of despair. As an consequence, no one can remember her as anything other than a simple background pony.
No one, that is, but Octavia.
---
A Mahou Shoujo Madoka Magica crossover. Based on episode 12. Spoilers for the series' ending is contained in this story. Familiarity with the series is recommended, but not required. Familiarity with Rebellion is not required, though the Sirens are based off Rebellion's Nightmares.
Cover art: "The Round Cake Goes Round in Circles" by CyanAeolin on Deviantart.
Chapters (1)