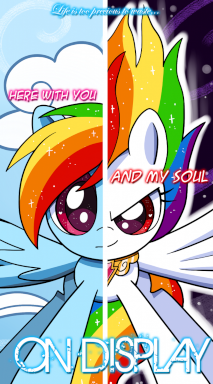 Source
The Super Rainbow Dash fanfic, as written by her concept creator.
The follow-up to this fic can be found here: "Harmonic Retribution ~HERO~"
---
The Elements of Harmony. The most powerful magic in all of Equestria...
For two times now, they have been wielded by six individual ponies, bound together by the Magic of Friendship, to successfully counter the wicked and chaotic ambitions of those who sought to conquer the world.
Yet, for all their usefulness, these magical artifacts still remain a mystery to most of ponykind. Perhaps the most important question is, was it really the full potential of them that was displayed by the wielders? Or is there simply more than what meets the eye?
When Rainbow Dash recieves an updated version of the book focusing on the Elements of Harmony and reads its new chapter that tells of a special incident that supposedly happened eons ago, soon, a series of events happen afterward. Events which ultimately culminate in Rainbow Dash discovering her true destiny, as well as discovering what she really holds inside in her very own soul...
---
As this fic was started in 2012, the setting of it is after the events of the Canterlot Wedding, and therefore ignores most of season 3 and 4 while keeping some of what was revealed about the Elements of Harmony in those seasons intact, including the Tree of Harmony.
The main theme of this fic, as well as the theme of Super Rainbow Dash, is Daiki Kasho's "5OUL ON D!SPLAY" from Gran Turismo 5/6/Sport/7.
Super Rainbow Dash concept and design by me. Conceptualized in the summer of 2011, pre-dating Hasbro's Rainbow Power forms.
The short animation on YouTube by TehJadeh.
Fanart collection.
Cover art by DomesticMaid and me.
Chapters (7)