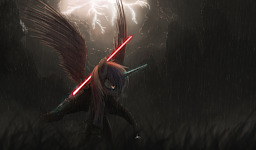 Source
The Crystal Empire had returned after an eternity in limbo and with it, its dark king escaped his tomb of ice. Equestria sent its most capable ponies to defend and secure the Crystal Empire, they fought admirably, but they ultimately failed to safekeep the heart of the empire. The Dyads fell, King Sombra retained his throne, and darkness blemishes the northern skies once again.
Equestria is now in the midst of recuperating, preparing itself for a large-scale siege to take back the empire and free it from King Sombra's influence. However, the dark king will not rest until Equestria is no longer a threat. He is not above doing whatever it takes to prevent Harmony from spreading into the Crystal Empire, and he has the perfect tool to carry out his whim.
---
A spiritual crossover with Star Wars, based on the cover image by NCMares. Written for Equestria Daily's Friend-Off Revival. And for Halloween, I guess.
Chapters (5)