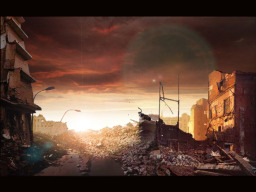 I have no idea how long I have been running, all I know is my friends and all who I hold dear to me are dead. Snatched away by the hordes of monsters simply known as the Exmortis. Canterlot never stood a chance, the Princesses never stood a chance... so what other option was there but to run from the ever increasing mass?
Oh Spike...I should have been there to protect you...
---
Trigger Warning: Rated teen for language and occasional descriptions of the aftermath of what conspired in the story, be it minor/moderate gore or disturbing/depressing imagery.
---
I give credit to the original creator of the Exmortis game trilogy, I will not post a link for obvious reasons but you can search it up at your own risk.
Chapters (4)