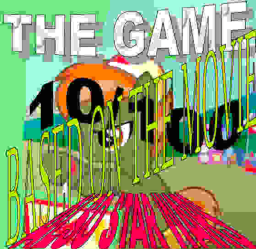 This is Ⓑⓤⓣⓣⓞⓝ Ⓜⓐⓢⓗ: Ⓣⓗⓔ Ⓖⓐⓜⓔ. The world's first-ever RPG/FPS/MMO/MOBA/RTS/TBS, now on Joy Boys near you.
You are Button Mash. You have just woken up. You are also playing a video game, because when are you not playing a video game? Hopefully you can make it downstairs. Breakfast is starting.
"I don't even play video games! I don't know what you want from me!"
- Princess Twilight Sparkle.
"Button, that's very nice, but I'm trying to balance on this ladder right now, and if you keep distracting me, I'm going to—"
- Mom.
"Is this fanfiction about yourself?"
- Sweetie Belle.
"This was the worst game I've ever played. It should be used as a weed-killer, because that way it would have a reason to exist. 9/10."
- Spike the Dragon
-
Vector Credits:
MacTavish1996
BaumkuchenPony
Lahirien
JunkiesNewb
FoxTail8000
Chapters (21)