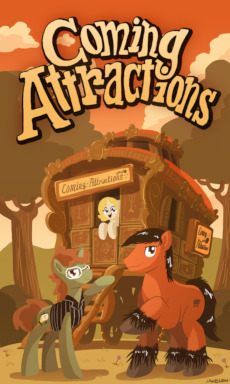 Silver Screen and Long Haul are two friends that find themselves in the bustling town of Trottingham with no home, money or plan. They will have to face their silly surroundings, personal faults, one really angry mare, and even censorship committee called C.L.O.P. but just what does all this have to do with the founding of Equestria's first traveling movie theater? Join them on the road as they uncover more about themselves, the world they live in, and a conspiracy that may just hold the fate of Equestria in it's balance.
Aaaaaannnnnd we're back! I'm going to re-instate my promise of weekly updates! Interested in helping the story improve while getting a shot at reading the next chapters before everypony else? Apply to be a Pre-Reader by sending me a message!
Also cover art! The beautiful cover picture was made by Jacob Martin AKA DocWario on Deviantart.
Chapters (15)