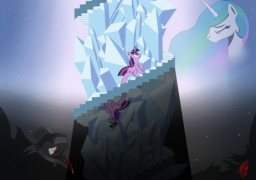 Source
Twilight, my Faithful Student, my friend, if there is anypony that can create a world of Harmony, true Harmony, it is you.
More than a thousand years ago, my sister and I sought to create a perfect world, a world ruled by Harmony. A world free of evil. We were powerful and believed ourselves above the laws that governed this world. But this world is governed by the laws of Magic, and Magic, it seems, demands balance.
Where there is Light, there is Darkness.
Where there is Order, there is Chaos.
For there to be Love, there must be Hate.
For every Dream, there is a Nightmare.
Each begets the other.
And like boiling water over a fire, each can extinguish the other.
I should not have been surprised when the day came that the evil I had to fight was my own sister. It was the world restoring the balance we so foalishly ignored.
Perhaps, it is for this balance that I now stay my hoof. I have chosen to have you,Twilight Sparkle, act in my stead as the evils I thought vanquished, inevitably return to Equestria. It is in hopes that you may learn this balance, that you may learn from my mistakes. It is not something I alone can teach you, when I myself still understand so little. It is why I must now rely on the help of an old nemesis.
He intends to take you away, my protégé, and make you his own. You must not succumb to his influence. Yet if you are to learn the balance that is at the essences of all things, it will be through him. For the future of Equestria and for the sake of Friendship, you must prevail.
I hope that some day you can forgive me.
Chapters (7)