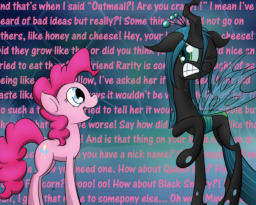 Source
In her latest attempt to take over Canterlot, Chrysalis has foalnapped Pinkie Pie and is holding her hostage in the changeling hive.
Yet this pony is different. Most ponies end up weeping in their cells, begging and pleading for release. In contrast, Pinkie Pie just doesn't stay still.
Or stay in her cell.
Or stay quiet.
Written for the October Crack Ships, Inc. contest.
Chapters (2)