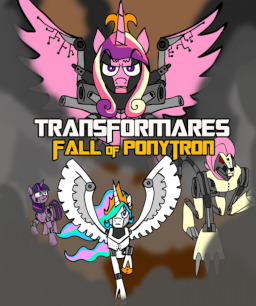 Ponytron has Fallen after eons of conflict against the Kulasepticons. All the Autoponies have left for the stars and one ship has just left orbit, aboard it is Celestia Prime, Leader of the Autoponies. The ship heads for the hole in space to a distant world rich with energy that could be used to restore Ponytron However the ship pursuing them, aboard it Nightmare Moon, Leader of the Kulasepticons has other plans. Which include the Autoponies end once and for all. During the scuffle the Auto pony scout Twilight Sparkle is critically injured, as she struggles to hold on to life, her life flashes before her eyes, slowing down to the final days of the war. This isn't the war, this is...
The Fall of Ponytron.
Rated teen just In case and robot gore.
Additional tag: Twilight, and Fluttershy (because of Flutterlock)
I do not own any of these characters, this is made for entertainment purposes only.
Tirek is a tag because he has the role of Starscream. Yes the other Mane Six will appear but not Pinkie as she already has her role in Transformares Prime and her character doesn't appear in this sadly.
New cover image courtesy of Cobalt Legion very awesome cover maker.
Chapters (14)