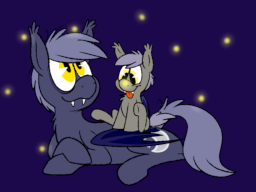 Source
Moonshine is tired.
She works hard all night to provide for herself and her young son, Stardust. They live alone in the small bat pony village of Hollow Shades, on the ground floor of their tree home. It's not easy, raising a foal by herself, but she'd stop at nothing to provide him with everything he could want.
Well, almost anything. Some things just... aren't meant to be.
But together they make it through. One night, she keeps telling herself, it'll get easier. One night, they won't be alone anymore and they can be a family again. One night...
Until then, she'd just have to hold her flickering lantern a little closer.
---
All characters belong to the awesome KarpetShark. Go give her some love, she deserves it.
You can also find Moonshine's ask blog here.
Chapters (1)