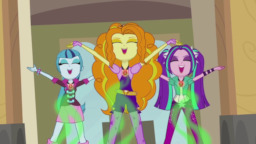 If the sirens had their way, they would have divided and conquered all of Equestria. But a certain Star Swirl the Bearded wasn't having it. Rumor has it he found a way to banish them to another world – one where he believed their magic power would be lost. That world must have been the one where my Canterlot High friends live.
But Star Swirl must have sent them there ages ago. How come they're just surfacin' now?
---
A cursory look at the sirens' thousand years of history in the human world before the events of Rainbow Rocks. With apologies to Kim Stanley Robinson.
Absolutely no connection to Death and the Dazzlings.
Chapters (1)