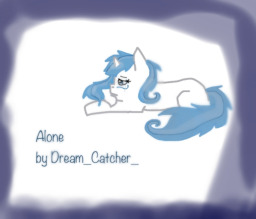 Dear New Diary,
I suppose I should introduce myself. My name is Dream Catcher, I'm a teen unicorn and I have the phobia of the crowds because of an old event which happened on my 4th birthday. As a gift, my parents brought me all the way, from Manehattan to Canterlot, for the Summer Sun Celebration.
Unfortunately, because of the crowded and HUGE place, they lost me and I spent two hours panicking and almost hyperventilating before a royal guard found me crying and brought me back to my parents.
And since that day, I stay locked in the house of my parents, without any contact with others, if we don't count my parents and my sister. I don't have a cutie mark - how could I earn my 'special talent' if I stay far of the others ?
But ... I can't go out, it's just ... I can't. There is too many ponies, too many strangers.
Welcome to my life.
Chapters (2)