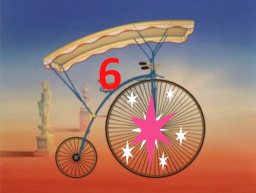 "You are in Ponyville. We want information. You...are Number Six."
One minute, Twilight is trying to back out of her way of life. The next, she finds herself thrown out of it. Twilight awakens to find herself in a mysterious town that is nice, quiet, and peaceful. Too peaceful. How has she ended up here? And just where and what is "here"? Ponyville, a town next to a dark forest and bordered by mist both beside and above, and populated by ponies with numbers instead of names. Twilight must figure out what information is sought by the ever-present, ever-changing Number Two and keep it from them as she desperately tries to find a way out of the town called Ponyville. She is not a number. She is a free mare!
But...why did she want out in the first place?
(MLP does The Prisoner (1967 TV series). Not necessarily at Adventure levels, but probably well beyond Slice of Life; there doesn't seem to be a tag that accurately represents this type of story. Suggestions?)
Chapters (2)