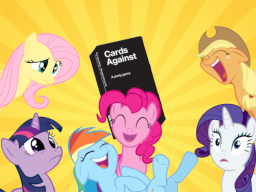 When Maud Pie officially endorses the latest party game to hit Equestria, Pinkie can't wait to share it with her friends.
For all the wrong reasons, it's a game they won't soon forget.
---
The trendsetter so controversial, 60% of FimFic's mods ruthlessly crushed the subsequent bandwagon!
Stuff said about CAE:
"I never knew I wanted this until now!" - Xomniac
"Despite your vileness, I can't stop laughing at this fic!" - Professor Tactitus
"Illuminati confirmed." - AlesFlamas
"So weird, I reviewed it twice!" - John Perry
Rated Teen, but brace yourselves for some rather 'near-the-knuckle' humour and strong-ish sexual references. Oh my.
Edited by Kolth
Chapters (3)