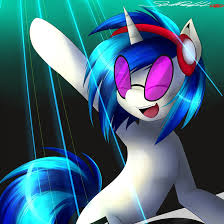 Vinyl had never even heard the word "Human" before. Until her party had accidentally been interrupted, Vinyl hadn't actually even been out of Equestria.
When she winds up in the human world, Vinyl has absolutely no idea what she's doing. There are people who want to hurt her, and people who want to keep her as part of their "collection." On the run, she finds one guy who's willing to take her in and help her. The only problem of his is that he lives on a farm in the country, with no studio. Even worse, he is not a brony.
With Vinyl's life on the line, she has no choice but to accept him into her life, and she immediately goes to work on the farm. Does that mean she can truly ever outrun what so slowly chases her?
---
Credit to Zance21 for coming up with the idea and requesting it for me!
Credit to 0_0, GadgetPhile, and enti0 for being my amazing proofreaders and editors!
Chapters (9)