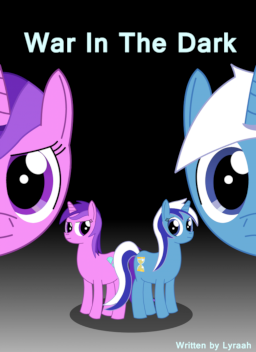 A long lost artifact called the Blue Diamond had found itself in the hooves of Hooven Stone, the boss of the North Manehatten Mafia. One particular pony wants the diamond, and she wants it bad. For what reason? Nopony knows. She has a plan, and she will not hesitate to involve the law if she needs to.
Meanwhile, Minuette, a young ambitious mare from the police force, captain of the CEIB reserve team and negotiator, have inadvertently crossed paths with this mysterious pony, or did she? Meanwhile, her air-headed chief continues to question her motives. Minuette will be pulled into her plans. Driven by curiosity and determination, she will have to choose between aiding a possible criminal or abiding by her morals, and take her in.
The Blue Diamond holds immense value and the Mafia will not allow it to fall into the hooves of another pony, let alone the law.
The game of three days and the battle between three sides have begun, and only one will emerge victorious. Will Minuette be too blinded by admiration and virtues to see the bigger picture? Or will she really understand the true motive behind all this?
Only time will tell.
---
This story takes place in the metropolitan city of Manehatten where modern technology exist.
Focused solely on background ponies and OCs.
Cover art by BlazedSilver.
Chapters (9)