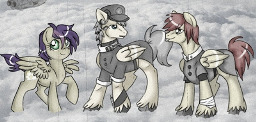 Sunset Sherbet is excited-- and with good reason. It's been forever since she's visited her brothers, but now they've managed to get shore leave at the same time! She's meeting them both today while the Raptor-class Cloudship TMS Reaver takes on supplies after a lengthy patrol over Enclave-held territory.
For Sherbet, seeing both her brothers at once is a rare treat. What could Windfall and Sunset Charge have planned?
---
...Fallout: Equestria counts as 'alternate universe,' right? 0_o
This is a short character sketch of three characters from EzeFilly's Fallout: Equestria story, Fall of A Pegasus, featuring the main character of that tale and her two brothers. The concepts for the characters and the storyline are his, and the basis for THAT is of course Kkat's Fallout: Equestria. Wow, this is like credit-ception or something.
Artwork is by Rana-San and is a commission she did for EzeFilly.
Original Artwork is here (EzeFilly is ColgateFIM on DA)
Chapters (1)