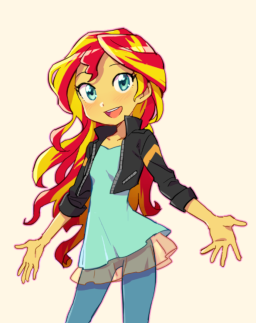 Sunset Shimmer believes that she will never live down what she did at the Fall Formal. She turned into a she demon and tried to use the students to take over Equestira. She knows that she made mistakes and wants to get past them, but no one will let her. Everyday, she is reminded of how hated she is and how she tore friends apart. Sunset decides that she can't take it anymore and tries to end it all.
Lucky for her, she is saved by a mysterious boy who promises to help her fix her reputation. Sunset decides to entertain the idea, and accepts his help.
I came up with the idea before Rainbow Rocks, but just never put pen to paper. Expect this to conflict with the movie.
Featured on 5/24/15, 7/19/15, and 5/22/16! Thanks to everyone who's ever read this story!
Chapters (8)