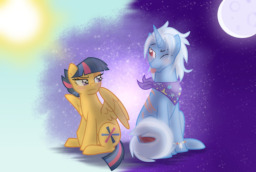 Source
This story is a sequel to When the Stars Align
---
After the most bizzare week of her life, Starburst, the daughter of Princess Twilight Sparkle, finds herself in a relationship with Starfall. Despite their personalities being opposite of one another, she agreed to go on a date with the unicorn, and fell asleep next to him feeling happy and safe.
But will this relationship survive the test of time? Between Starfall's not so great beginnings in Ponyville, his tragic past, Starburst's family's attitude, and, worst of all, her friends' merciless jokes, does it even stand a chance?
What does their future hold?
---
Universe and most characters by: kilala
Cover art by: Faith-Wolff
Edited by: Zaleros, Lazygamer313
Proof-read by: Bazing, Sage Probo, guardianxela
Proof-read of the first chapter by: Zaleros, Sixkiller5, DarkZonker, Bazing, Sage Probo, guardianxela.
Chapters (23)