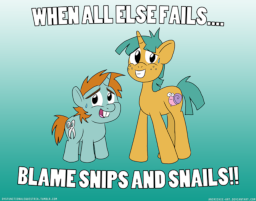 It's been years since we last left Ponyville and two immature colts named Snips and Snails had grown up to become even lazier immature young stallions. You'd never believe that they were destined to bring upon peace everlasting through the shear power of rock and roll and light medication. This is their story. The story of two best friends, time travel, drugs, rock and roll and a quest to save the future.
Authors note:
I plan on not following the movie 100 % More like 60%
I plan on introducing older versions of characters like the CMC�s, Peppermint Twist, Diamond Tiara, Silver Spoon and Pipsqueak as the school jock and of course the mane six.
There are OC's that only serve as historical figures like star swirl the bearded, parents, students and teachers.
I will also be mixing bits and pieces of other shows and movies as I see fit.
comments are appreciated and this is my first story so be harsh.
I hope if this goes over well, so I can make more movie and television parodies.
Chapters (6)