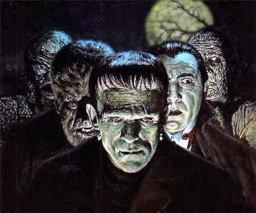 A spell gone wrong brings the monochromatic fiends of the silver screen to Equestria!
Will Twilight be able to withstand the new enemies that arise to snuff out the light? Can the kindness of one pony's heart heal that of the Frankenstein Monster? Can Daring Do escape the dread clutch of Imhotep? Will Lawrence Talbot finally rid himself of his lycanthropic curse?
Find out in this festering fable I call: My Little Monster: Friendship is Universal!
Chapters (5)