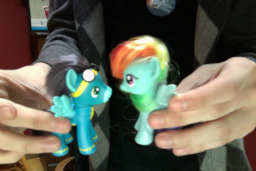 Source
New cover photo! My Bronycon acquisition!
Soarin and Dash have a chance encounter after the wedding reception. Shipping ensues.
Now that finals are done, I'll be able to produce a lot more chapters. Hopefully one every couple of days. The Spectral Fire is very explicit; Ch4 is much less so [but with a couple sexy moments XD].
This is not a Clopfic. However, there are sexual moments (as in any romance) and very very minor language.
There may be more explicit chapters depending on if it would make it better.
This is a light/subtle parody; I guess the title didn't make that as clear as I thought? Still, it's not entirely silly, and it's getting a little more serious as a result of the positive response.
Chapters (8)