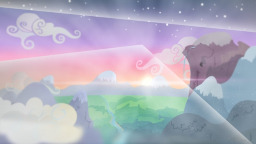 I almost called it "A Brony's Tail" for the novelty, but I couldn't because that would imply that I got a mane and hooves in this story.
I'm a brony, yes, plucked out of my life and plopped in Equestria for reasons I don't know and by methods I don't understand. Yet, I should count my blessings. After all, who else could enjoy front row seats to the events of MLP: FIM unfolding in real life. Starting, much to my amusement, with the return of Nightmare Moon herself!
However, not everything is rated TV-Y, and what should I do when some of the characters begin deviating from their scripts?
Edit: July 2nd 2015. F-featured!? Thank you so much!
Chapters (20)