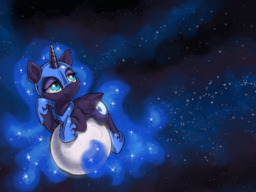 Source
History records that Nightmare Moon was sealed away inside the moon, but there are some who tell the story differently. They claim that she was banished not into it, but onto its surface.
If that's the case, what did she do on the moon? How did she keep herself entertained? How did the stars aid in her escape? And when the answers to those questions are revealed, can she ever live them down?
Cover image by KP-ShadowSquirrel.
Chapters (1)