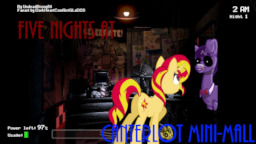 During summer vacation, a recently reformed Sunset Shimmer decides to take a job at the new mini mall that recently opened. It's like any mall, except that they have animatronic mascots that entertain children during the day. But she works at night.
The night time is a whole different story.
The animatronics day job is entertaining children. Their night job, keep all the metal endoskeletons in their suits.
Will Sunset Shimmer be able to hold out all five nights of psychological horror? Or will the animatronics succeed in doing both of their jobs?
Cover art is only temporary. If any of you could make a cover art for the story, that would be very much appreciated!
EDIT: story cover thanks to this person!
Chapters (6)