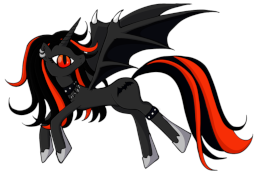 (This is about my OC Demon Bash.)
With the return of an ancient Alicorn, the main 6 must struggle with the fact that Celestia has lied to them all about the true past of Equestria. Soon, a rebellion is put into full effect. Will have human loving Lyra later.
I ask that you don't put anything negative in the comments. Only positive comments please. Also, don't ADD THIS TO ANY GROUPS WITHOUT TALKING TO ME FIRST.
Chapters (1)