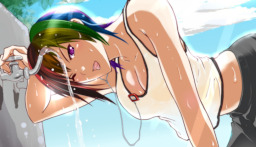 Source
Rainbow Dash was born to be an athlete. Eventually joining the Wonderbolts seemed like the natural progression in her life and yet there was always a roadblock stopping her from walking down that path. Whilst she may be the perfect athlete in terms of drive, personality and muscle tone, a genetic fluke left her with two very big problems to deal with. Though dealing with them isn't as easy as it sounds.
--
Let me begin by telling you all about the magical land of Equestria. No one really knows why it's called Equestria, but leading theories suggest that it refers to the land's ancient tradition of keeping horses for use in transport and battle. Others say that it's all a coincidence and its name stems from a foreign language that resembles the word for horse riding. Others believe that the founder of the land was obsessed with horse puns.
Regardless of its long and storied history, Equestria is a vibrant, modern land filled with interesting people and magical creatures. There are three sentient races that predominantly inhabit Equestria; the humans, the elves and the avians.
Humans are a sturdy, hard working people with a strong emphasis on labour and nurturing life. Their agricultural knowledge is unmatched and as a result, the vast majority of farms are run and staffed by humans.
Elves, on the other hand, are a secretive and mysterious race, choosing to spend their lives studying one thing or another. A naturally intelligent race, the elves are forerunners in the various fields of science, using their innate magical talents to perform impossible acts.
Last but not least are the avians, a slender race who use the massive wings on their backs to take to the skies. The avian people are slightly smaller than their human and elven counterparts, but make up for it with their natural speed and agility. They have the strange ability to manipulate weather phenomena and use this power to help others in times of need.
You didn't come here for world building however.
Let's move onto the good stuff.
Chapters (1)