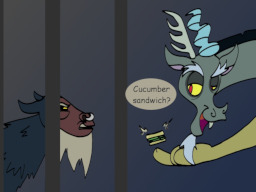 Source
Tartarus is a lonely, lonely place, and Tirek knows this all too well. Still, he isn't exactly pleased to get company, particularly when it takes the form of the very being whom he betrayed and ultimately got him locked back in here.
Still, when he offers Tirek more than he first advertised, the demon can't help but feel... oddly intrigued by the prospect of what's to come.
---
Slightly late birthday present for RainbowBob.
Chapters (1)