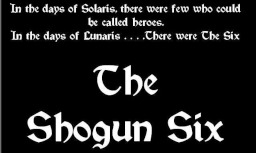 AU. Dusk Shine is the apprentice to the Shogun of Equestria. When an ancient evil threatens to return, Dusk must gather the only thing that can stop it: The Elements of Bushido. Now Dusk begins a quest that will bring him together with five other ponies.
Their journey will bond them together as brothers in arms for the rest of their lives.
Their adventures will make them the stuff of legends....
First in a Saga.
Currently rated Teen. May jump to M if the fic requires in later chapters. Crossposted on Fanfiction.net. While it isn't going to be grimdark, it is marked dark for certain scenes. Will contain a crossover VERY late in the story, so the crossover tag is in place. Human tag is for occasions in this story that feature the ponies in anthro form as well as actual humans who may show up.
Cover artwork....or just artwork in general for the fic, would be greatly appreciated, since I have ZERO skills when it comes to drawing. PM me if interested in providing artwork for the fic. You will get full credit for any artwork provided if used in some way on the fic.
---------------------------
Recently, I discovered that this fic has gained a listing on TVTropes.org! Not an actual page, but a listing. But could use a bit more love. Maybe someone will expand on it in the future and make it its own page. Keep your fingers crossed.

Chapters (6)